The Cote d'Azur
Yours to explore from our charming accommodation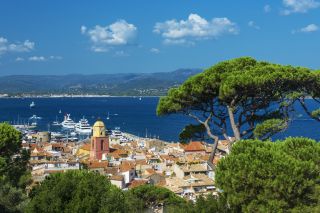 Less than 90 minutes from the Rotonde's gites, the legendary destinations of Provence and the Côte d'Azur await you. The Mediterranean and its shimmering turquoise waters shine under the sun of the Var, which gets the most sunshine in France, approximately 300 days per year.
With its dreamlike villages, creeks, footpaths and beaches, the Gulf of Saint-Tropez makes for an unforgettable holiday. Saint-Tropez itself is a must-visit destination. Discover the village by exploring its winding streets and boutiques, its citadel, its world-renowned port, its beaches and its Provençal market.
Nearby are more superb beaches and heavenly beaches, including Ramatuelle and the Plage de Pampelonne (4.5 km in length, site of the legend of Saint Tropez, and classed a "remarkable natural area"), Gassin, Cavalaire, La Croix Valmer, Cogolin and Port Grimaud.
The Côte d'Azur begins here at Hyères-les-Palmiers. In the middle of the 19th century, Hyères was a renowned and lively resort where the world's rich and powerful would spend the winter; even Queen Victoria stayed here. The town has retained its old-fashioned charm from this period with its casino, its hippodrome, its botanic gardens, its grand Belle Époque buildings and its Oriental-style villas. It also has an exceptional natural heritage, being home to the Giens Peninsula, the Vieux Salins marshland and the Îles d'Or (Porquerolles, Port-Cros and Le Levant).
The Rade de Toulon (Toulon Roadstead), called "the greatest roadstead of Europe" by military engineer Vauban, is a magnificent site sculpted by Mother Nature and can be explored from the peak of Mont-Faron or from the sea, whether by cable car, along the cliff-side path by the water, from the military forts, by a boat tour with commentary, along the paths, through the creeks and up the mountain. Surrounded by limestone cliffs dotted with umbrella-like pine trees and complemented by the blue sea, it offers a range of sweet escapes.