The Verdon Park
An unmissable tourist adventure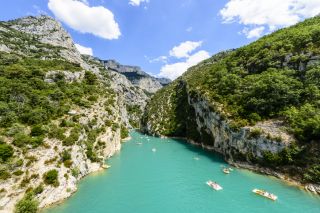 When staying at our gites in Villecroze at the gates to the Verdon Regional Natural Park, you'll be able to explore a territory offering a great variety of landscapes and environments, home to a third of French flora.
The Gorges du Verdon are part of the "Grands sites de France" network. They form the largest canyon in Europe and are one of the greatest natural sites in Provence. You can explore them by canoe or admire them from atop their steep cliffs thanks to a small route that tracks the course of the River Verdon from above nicknamed the "Corniche Sublime" (Sublime Cliff Path). Dotted with countless viewing places for admiring the stunning vistas, it stretches out over 20 km of the most spectacular part of the Gorges. From the village of Aiguines to Comps-sur-Arturby, you'll feel like you're halfway between heaven and earth, looking down the rugged crack below where the Verdon, 600 m below, looks like a mere trickle.
For those who prefer something more relaxing, head to the Lac de Sainte-Croix hidden in a grandiose landscape surrounded by the hills of the Haut-Var and the Valensole plateau. Here you can swim in its turquoise waters or relax on its beaches. You can also enjoy sailing, paddling, canoeing, pedalos and electric boats.